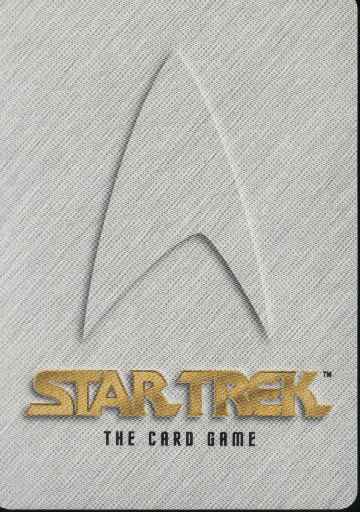 Star Trek the Card Game
Star Trek das Card Game
Starfleet Maneuvers

Star Trek the Card Game was released in 1996. There were two English series were released by Fleer Skybox, and the German set, was released by Modern Graphics. A third English series was rumored to be in the works, Alien Encounters, but to my knowledge it was never released.

This site features pictures of all of the cards from the game and can be used as a reference in identifying the various versions of several cards. All card names are identical to the card names originally listed on the CCG Trading Site Eyeoftheworld/Skybox, which nolonger exists.
The Legal Stuff

Star Trek the Card Game and all card images are copyright of Fleer/Skybox 1996
Star Trek, All Character Names, Ships, Places, and related information are copyright Paramount Pictures.
All images within this web site scanned by me and may not be reposted without my permission

Final Notes:

Your browser must be javascript enabled or you will not be able to view the cards.
Each page has between 10 and 60 cards linked to it.
Just point your mouse to the card title and it will be displayed. You do not need to click.
Promos and Fixed Cards have alert windows attached to them to provide additional information about that card.
Pack Wrappers, Starter Deck (listed as a Starter Box), Info Card and the Rule Book (listed as Instruction Book) are also listed on this site.
New Card Index
---